SilentAim is the first to release a stable, working hack right after the Open BETA of Paladins.
Check out the Youtube video to see the hack in its current state.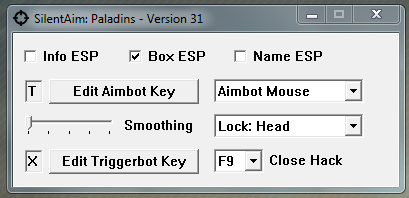 Instructions
1. You must use the Steam version of the game.
2. Ensure your game is in
windowed/borderless
mode
3. Start the hack in the main lobby/game (not the loader)
4. Have fun!
Current Version:
 41
Last Updated:
 27 November 2016